Variable Hybrid Planting
This talk will be focused on variable hybrid corn planting. Why, how, and where is it going? Through Beck's Practical Farm Research, we have been testing variable hybrid planting for the past two years. I will be showing our equipment used, prescription methods, and the value of changing corn hybrids automatically based on soil type or management zone changes.
Speakers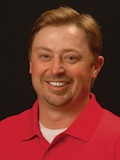 BIO: Jason is currently the Central Illinois Practical Farm Research Director for Becks Hybrids, based out of Downs, IL. He has been actively engaged in on-farm research for 24 years. His work at the Practical Farm Research Center allows Beck's the ability to study all avenues of crop production. New technology is always a focal point of our research, as it allows producers to evaluate products, concepts, or technology before it enters commercialization.